From the
15th to the 17th of September
, ArenaFPS
TimConLAN
returns for its fourth installment.
Liverpool's Horizon E-Sport Club
will once again provide an ornate background to TimCon's action, in all of its ostentatious glory, saving us from a fate worse than death; organising a BYOC event.
TimCon is what happens when you take a simpleton, run an AFPS LAN in his house, and then decide it would be better if there were more than five insufferable cunts in attendance. It's three days of twenty brave keyboard warriors, from all over the UK (and some from Europe), figuratively locked in a room, playing mostly duels, with all of the heartbreak, trash talk and awkward social interactions that usually entails.

Last event has near enough unanimously been considered a success, so the formula remains much the same. Warsow, Reflex and Quake Live duel tournaments all make a reappearance.

Here's a brief taste of TimCon 3, courtesy of Demsix. As well as his day three timelapse.

Last time, the stream left a lot to be desired, TimCon 4's online segment will see a considerable upgrade. Technical goblins will be on site all hours of the day to bring you a seamless remote TimCon experience on Twitch.tv/ArenaFPS, running for the full 12 hours of each day (12-24 GMT).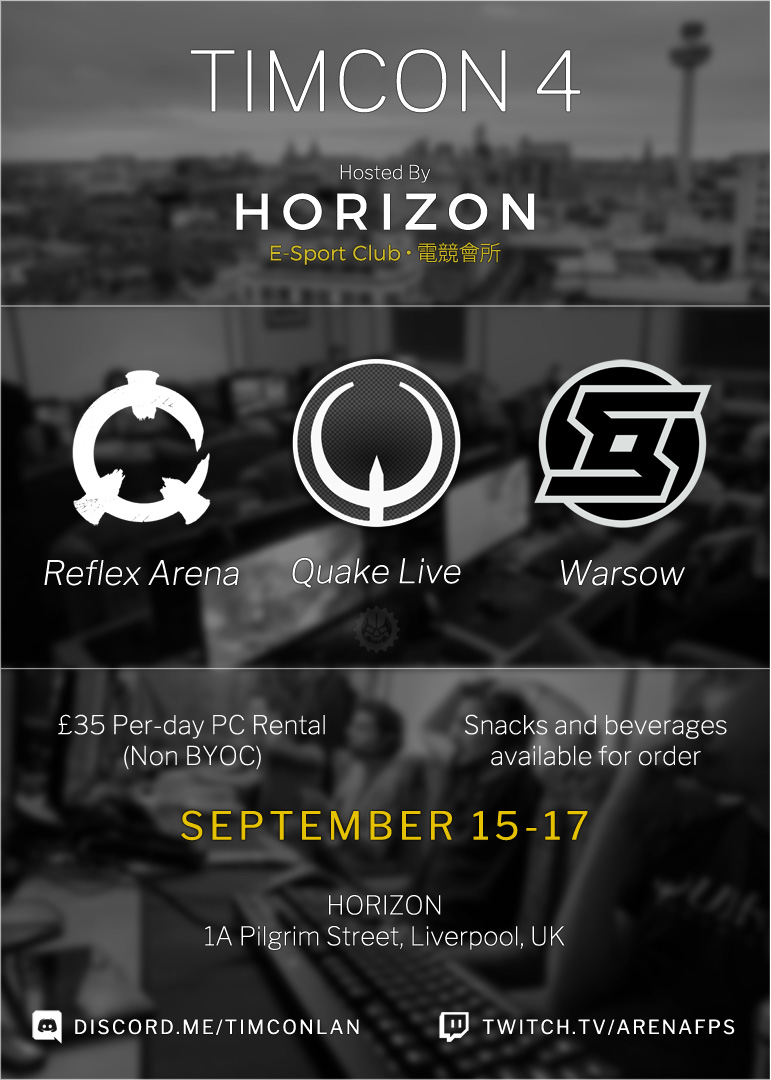 In Liverpool city centre, surrounded by restaurants, corner shops and supermarkets. While the venue prohibits alcohol on the premises, there is no short supply of pubs, clubs and off licenses within hobbling distance.

I would also advise those of us who aren't too hungover in the mornings to go out and experience the vast culture that can be found in Liverpool, a truly wonderful city.
We have 20 PCs available for rental each day (12PM-12PM). The cost is £35 per person, making for a total of £105 should you attend for the duration. You cannot bring your own PC. Length of stay is optional, though if it's less than a day you'll have to pay the usual rate of £6 an hour. If you're in the area and want to hang out, entrance to the viewing area is free.
While you're welcome to bring peripherals of your own, those too are on offer for no added cost (Logitech G502 mice, G810 keyboards and G640 headsets). Players can also feel free to bring any HUD/config files they may need.
Reflex, Quake Live and Warsow duel tournaments will be ran officially and streamed. The PCs already have Steam, Origin, Battlenet and all that good stuff installed so feel free to download and play any games you own on these platforms, Horizon also have some games available to play for free. Games that aren't on these platforms (like QuakeWorld for example) are perfectly okay to download and install.
Links:

TimConLAN
,

Horizon E-Sports Club