Just about two weeks remain until the main QuakeLive event of the year, and we have decided to provide a series of interviews from people that will attend the event. Here is the first, and hopefully not last, interview, with Michael "
winz
" Bignet of team
Meltdown
.
Firstly, tell us a bit about your current self (name, age, location, hobbies, interests, etc...):
Hey! My name is Michael Bignet, I'm now 28 years old and currently live in Prague, Czech Republic. I have been making a living out of poker for a few years now. Hobbies hmm.. games? I've been a nerd as long as I can remember, and I still am. ;)
How do you feel with two weeks left until the QuakeCon 2015? What are you thoughts about the event/format, and what is the overall situation so far with the teams?
Quite confident overall actually. CTF has been going well in general, we had our ups and downs in TDM, and our results felt a bit random from game to game, but I think that's due to poor communication that lead to horrible team-play. Everyone will be more focused, and disciplined, at QuakeCon when we are competing, and there shouldn't be any of those communication issues. Duel is more of a wildcard and isn't really the biggest focus for us but I think toxic can make anyone look like a total newb when he is in top shape. He could very well again provide a big upset there. :) Our biggest concern is what kind of temperature level we will get this time. =P

Considering there has been quite big step down in terms of activity lately with the QuakeLive community, and the 'subtle' format of this year's QuakeCon, what do you think about the number of teams, and quality competition that will attend this year? Are you surprised, or do you think it's natural for a die-hard community such as Quake?
I'm actually quite pleasantly surprised to see this many Europeans are going, although, I'm a bit disappointed to see some of them don't seem to be committed at all, and are pretty much going there for a free vacation. I'm aware this is not a cheap trip by any means, but the very least you could do after receiving donations is show you actually give a damn.

Regarding the format, I'm a bit disappointed that there isn't a duel tournament I can participate in this year, but as long as there are team-modes, I'm happy. =)

The Triathlon, with the swiss-system tournament is going to make up for a very interesting tournament, and forces teams to have a balanced lineup for each mode. I like the idea, and I think in some ways it favors us. There aren't that many teams that can realistically expect to place high in all modes, and I do think we are one of them.

With quite a number of upcoming arena-fps games, do you have a favourite? What are you thoughts (if you had a look at them) about UT4, Overwatch (by Blizzard), Doom, Reflex, Reborn (Diabotical)?
I don't really have a favourite.

Chances are, out of all of them, Overwatch will be the most successful so I will definitely give it a fair try. I'm a bit concerned that it will be too newbie friendly, and you won't be able to set yourself apart from the rest with skill/aim, especially in a 6v6 format... so we will have to see how it turns out. I like the aesthetics though, it has clear graphics with good visibility, an aspect I hate in CS:GO in comparison to its predecessors for example.

DOOM looks like Doom 3 with better graphics and scripted finishers. I don't really expect it to be a good multiplayer game, but I will still probably check it out when its released, but with low expectations.

Reflex's numbers on Steam speak for themselves, not many are interested in that kind of game, and I'm one of them. It is in my opinion delusional to think it can be successful.

Reborn I'm not sure what to think about it as there is so little to see. 2GD definitely has good ideas but we have yet to see them implemented, and it feels like ages since we've been talking about it. First time I heard about Reborn was at Dreamhack Winter 2011. At the pace the game is being made, it's easy to lose interest. The hype is gone for me, and the window of opportunity was a couple years ago when there wasn't any arena-fps games coming out. Now all of those new games will have to compete with each others in the same genre, and I don't believe any one of them really stands a chance against Overwatch.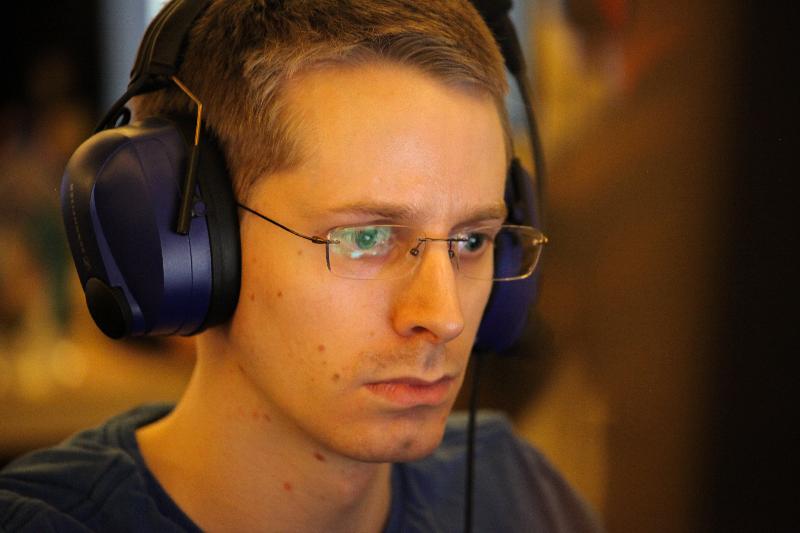 Image taken by l1nkin from QuakeCon 2014
Most of people, who familiar with you, know of your past achievements in Unreal Tournament, so naturally we would ask if you have tried UT4, and what are your thoughts about it? Do you see yourself picking it up again, and committing to it, if it gains momentum, popularity and interest from sponsors?
I still haven't tried it as most of the stuff were placeholders from Unreal Tournament 3, I've only seen a couple streams as well as a few videos. From what i've seen lately, they're not going for the stale, and over simplistic Unreal Tournament '99 movements that ultimately would have made it limited, and uninteresting. They also smoothed them up which is good. I can't really give a fair opinion without giving it a fair try but that's not something I'm willing to do just yet, not when it is so far away from the finished product with so many things missing. I cannot say if I will play it or not, wait and see. :)
Recently caught any (new/old) movie/ music band/activity that you found interesting/liked?
I listen to lots of music playlists but never check out the names of the songs I listen to so I'm not really aware of what I'm listening to most of the time. :D
I do watch quite a bit of series as well and Stargate SG1 is still the best SCI-FI show. =P

Favourite Quake 3/QuakeLive frag movie?
I'm an old-schooler, and as one I will have to say Annihilation, or Retribution (not entirely sure of the name anymore, and I can't find it on YouTube =/). None of the new movies impressed me as much as those ones did back then. To be fair it's hard to impress when it has become increasingly harder to innovate. :)
Any last statements or shoutouts?
To Meltdown who are sending us to quakecon! http://www.meltdown.bar/
Should also check out winz tox and l1nkin :)

Thank you for the interview, winz. Best of luck in your trip to QuakeCon 2015 :) hfhf
You're welcome and thanks! :)