TimConLAN
is returning to the
Netherlands!
From
May 7th to 10th, 2020
we will returning to the quiet town of
Alphen aan den Rijn
at the
Esports Game Arena
for more merriment and fierce competition! Featuring three tournaments:

CPMA
1v1,

Diabotical
1v1 and
DOOMBRINGER
2v2.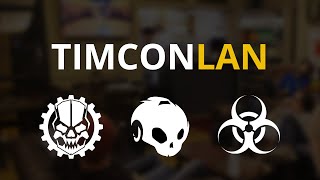 TimCon is a community driven Arena FPS LAN party which originated in the United Kingdom, now located in The Netherlands. What started as a small get together between five friends has grown into a four day gaming event attracting players from across Europe.

Currently based in the picturesque town of Alphen aan den Rijn at the Esports Game Arena, TimCon is an intimate LAN that showcases and celebrates the best and breadth of Arena FPS, TimCon aims to unify the genre's many split communities under one roof.

Thursday 11:00 UTC - 21:00 UTC

Friday 11:00 UTC - 22:00 UTC

CPMA Playoffs
DOOMBRINGER 2v2

Saturday 11:00 UTC - 22:00 UTC

Diabotical Group Stage
DOOMBRINGER 2v2

Sunday 11:00 UTC - 21:00 UTC

Diabotical playoffs
DOOMBRINGER 2v2
We have 32 PCs available for rental each day. The cost is €20 per PC, per day making for a total of €80 should you attend for the full duration. You cannot bring your own PC. If you're in the area and want to hang out, entrance to the viewing area is free.

While you're welcome to bring peripherals of your own, those too are provided at no additional cost. Players can also feel free to bring any HUD/config files they may need.
TimCon LAN prize pools are crowdfunded by the community, this money goes to paying for materials for trophies OR directly into prize pools. If you want your donation to go towards a specific game prize pool, please mention this in your payment message.

PayPal: Thank you for support.

Stream
:

TimConLAN
Links
:
TimCon LAN Site
,

Discord
,

@theTimConLAN
,
Esports Game Arena