The superstar team which brought you
DuelMania WorldWide
, dopeskillz, dev and dirtbox, are proud to finally announce both the worst kept secret and the news that you have all been waiting for:
DuelMania QuakeCon 2016
.
There has been a lot of work going on behind the scenes getting everything ready for DuelMania's first ever LAN tournament, and this time dev has really outdone himself. Whilst dopeskillz is working on the new DuelMania QuakeCon Page, dev has created a dedicated page for people to track the tournaments and also follow
pictures
from the QuakeCon event. The tournament will be held on
August 4, 2016
(registration day), starting at
06:30 UTC
.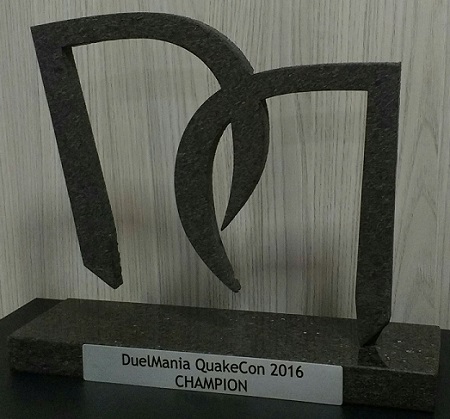 DuelMania QuakeCon LAN Trophy
Head to the Hilton Anatole and look for dev and dirtbox who can grant you access to the location where DuelMania QuakeCon 2016 will be held.
Seeded Double Elimination.
aerowalk

dm2

dm4

dm6

ztndm3
Standard DuelMania Rules with one change being ruleset QuakeCone instead of ruleset Smackdown.
The tournament is only open to those who are competing in the QuakeCon TDM 2on2 QuakeWorld Tournament. So you will need to have your QuakeCon general pass and also be registered for the tournament. This means the number of competitors will be limited to 64.
Bragging rights to the most important LAN 1on1 tournament since the TGi and the awesome one-of-a-kind DuelMania QuakeCon 2016 Champion's Trophy.
Links
:

Source
,

Get QuakeWorld
,
Community
,

Watch QuakeWorld