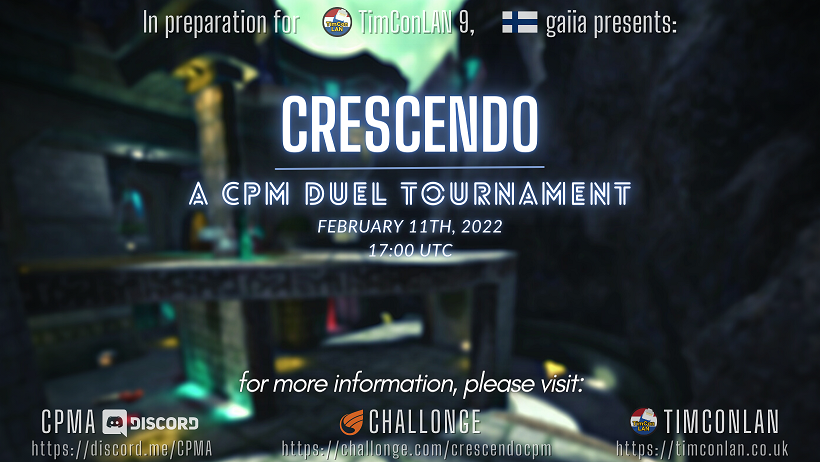 The event will commence at 17:00 UTC, 11 Feb 2023.
To sign up, head on over to the

Official CPMA Discord and request the admins or myself ( gaiia#2491) to give you access to the tournament channel. Alternatively, you can sign up via

Challonge directly.
Date & Time: 17:00 UTC, 11 Feb 2023
Check-in: Check-in starts 1 hour before the event goes live at 16:00 UTC, 11 Feb 2023.
Mode: Duel (1v1)
Tournament Format: Double elimination bracket. All upper and lower bracket matches consist of one best-of-three (BO3) game. The Grand Finals will be played as a best-of-seven (BO7) with the player coming from the Upper Bracket having a 1-0 map lead.
Map picking procedure: +pick, +pick, -drop, -drop, -drop, -drop. More details on the Challonge page.
Map Pool

cpm3a

- Use and Abuse (WR 15)

cpm15

- Patibuh's Lair (WR 15)

cpm22

- Aerowalk (WR 5)

pukka3tourney2

- Evolution (WR 5)

acid3dm10

- Interstellar Waltz (WR 5)

sodab10

- Soda (WR 5)

cpm30_b1

- Code S (WR 5)

Map Pack

IMPORTANT NOTE: Communication regarding the event will take place exclusively on Discord. Message gaiia or any of the admins for access to the tournament channel. Presence on the channel is mandatory to ensure admins/referees/staff can reach participants when needed.

Stream: twitch.tv/gaiia_tv
More info & Sign-up: Challonge page


If you want to donate to the prize pool, contact gaiia#2491 on Discord. Prize pool distribution is TBD.
You can also donate to the prize pool of TimConLAN 9 here.


"TimCon is a community driven Arena FPS LAN party which started in the United Kingdom, now located in The Netherlands. What started as a small get together between five friends has grown into a four-day gaming event attracting players from across Europe.

Currently based in the picturesque town of Alphen aan den Rijn at the Esports Game Arena, TimCon is an intimate LAN that showcases and celebrates the best and breadth of Arena FPS, TimCon aims to unify the genre's many split communities under one roof."





TL;DR:




TimCon 9 will take place on the 16th-19th of February 2023.


The venue will be the Esports Game Arena located in Alphen aan den Rijn. Games featured will be Diabotical, DOOMBRINGER, Quake 3 CPMA and Quake 3 DeFRaG.


The event will be livestreamed on TimConLAN's Twitch Channel. Tune in for some quality AFPS action or come and spectate the event live - entrance to the venue is free!


For further information, check out their Website and the original PlusForward.net News post

If you have any questions regarding the event,
please don't hesitate to ask gaiia#2491 on Discord.
Links:

Official CPMA Website,

Challonge,

Official CPMA Discord,

Stream,

Twitter