After many years of procrastination and broken promises, gaiia is finally ready to host some more

CPM tournaments. I hereby present to you: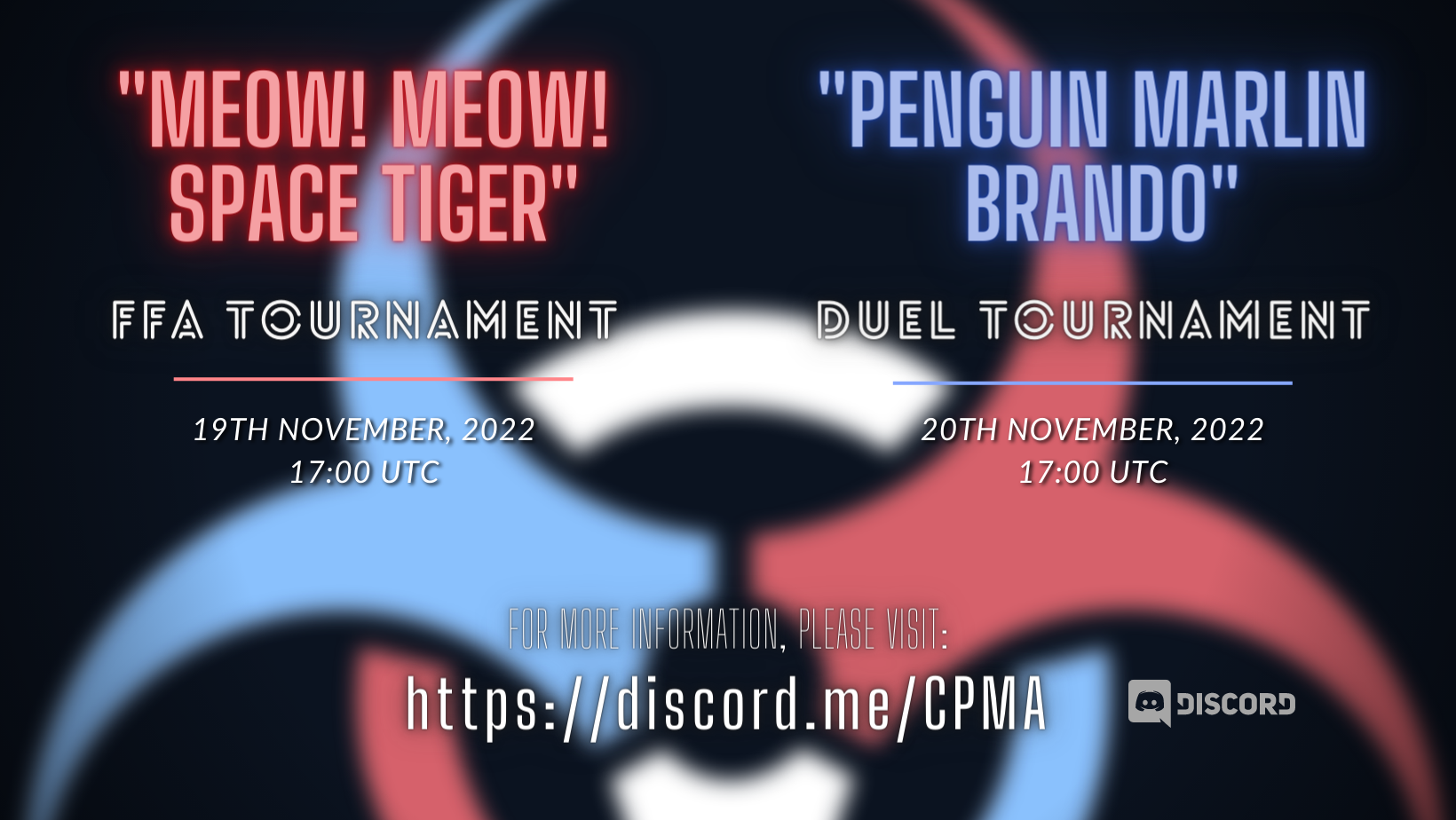 Meow! Meow! Space Tiger (FFA) &
Penguin Marlin Brando (Duel) Tournaments!
The events will commence at 17:00 UTC, 19 Nov 2022 and 17:00 UTC, 20 Nov 2022 respectively.
To sign up for either one of these events,
head on over to the

Official CPMA Discord and request the admins or myself (gaiia#2491) to give you access to the tournament channel.

IMPORTANT NOTE: Communication regarding the event will take place exclusively on

Discord. Message gaiia or any of the admins for access to the tournament channel. Presence In the channel is mandatory to ensure admins/referees/staff can reach participants when needed.


Date & Time: 17:00 UTC, 19 Nov 2022
Check-in: Check-in starts 30 minutes before the event goes live.
Mode: Free-For-All (FFA)
Tournament Format: TBD based on the number of signups. Assuming two groups of players, 3 pre-determined maps are played in succession. Afterwards, the top 50% of each group forms a new group of players and the remaining 50% form another group. These groups then play 3 other pre-determined maps each. After everyone has played a total of 6 maps, the points are tallied together to determine final standings.
Map pool:

Round 1 -

Tornado

- Tornado
Round 2 -

avrdm1b

- Get Up, Stand Up
Round 3 - history - History
Round 4 -

cpm21

- Foolish Legacy
Round 5 - nodm6 - Abandoned Rugs
Round 6 -

cpm26

- Out Of The Dark

More info & Sign-up: Challonge page
Date & Time: 17:00 UTC, 20 Nov 2022
Check-in: Check-in starts 30 minutes before the event goes live.
Mode: Duel (1v1)
Tournament Format: Double elimination bracket. All upper and lower bracket matches consist of one best-of-three (BO3) game. The Grand Finals will be played as a best-of-seven (BO7) with the player coming from the Upper Bracket having a 1-0 map lead.
Map picking procedure: +pick, +pick, -drop, -drop, -drop, -drop. More details on the Challonge page.
Map pool:

cpm15

- Patibuh's Lair (WR 15)

cpm22

- Aerowalk (WR 5)

pm24_b2

- Phrantic, remix by ParTy_maker (WR 5)

pukka3tourney4

- Otherworld (WR 5)

thcdm13

- Simplicity (WR 10)

sodab10

- Soda (WR 5)

astronomybeta

- Astronomy, remix by ix (WR 5)

More info & Sign-up: Challonge page
50€ - Leshaka
50€ - gaiia

Total: 100€ - If you want to donate to the prize pool, contact gaiia#2491 on Discord. Prize pool distribution is TBD.
I'm glad you asked. I plan on participating in both tournaments myself alongside hosting them, and any volunteer help would be greatly appreciated for the following tasks:

Streaming: Whether it's your POV, spectating others or a full out event coverage with casting, it doesn't matter. Simply put, more streams = better. Let me know if you're planning on streaming the event and I'll add your stream to the list.
Admin/Referee work: Admining the events all by myself is doable for sure, but any willing extra pairs of eyes and hands are most welcome. Help with these will make the events run smoother, quicker and with less errors.
Social media management: This one is rather straightforward. Like, retweet, subscribe, you name it. Feel free to spread the CPM love along in your socials. Who knows, maybe that elusive 18th CPM player stumbles upon this event...
Animated Gif 3.36 MB


Well, yes, but that has nothing to do with the names. I am but a messenger for great music - check these bad boys out:








If you simply cannot wait to watch some CPM action, you should tune in to watch the first AFPS Finland LAN Coverage this upcoming weekend at Kainalo's stream.

The event will have tournaments in Diabotical on Friday, followed by CPM and Quake Champions on Saturday. The event has a focus more towards having fun and getting together instead of tryharding. The stream provided will be predominantly in Finnish.

If you have any questions regarding the events, please don't hesitate to ask gaiia#2491 on Discord.

Links:

Official CPMA Website,

FFA Challonge,

Duel Challonge,

Official CPMA Discord,

Stream,

Twitter