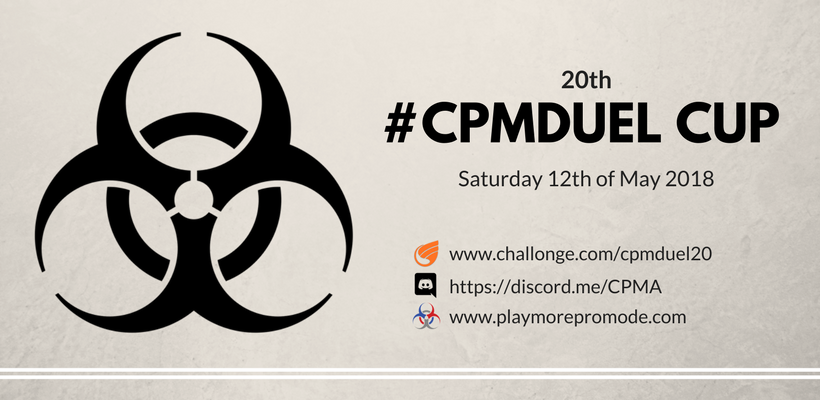 neverGreen and the

CPMA crew brings you another dose of Promode action in the form of twentieth
#cpmduel Cup
! This cup will be held on
12th May 2018
, starting at
16:00 UTC
. If you are interested, you can
sign up
via

Challonge
,
and
join the

CPMA Discord Server
. After signing up, you will get a participant role on CPMA discord server that will allow you to access the #cpmduelcup20 channel.
-- Good Luck & Have Fun!
Main Information
Date and time:
16:00 UTC, 12 May 2018
Check-in:
15:00 UTC, 12 May 2018 via

Challonge
.
Format:
Double Elimination, BO3 with BO5 Grand Final.
Map pool:
cpm1a
(wr 5),
cpm3a
(wr 15),
cpm15
(wr 15),
cpm22
(wr 5),
cpm24
(wr 5),
evolution
(wr 5) &
darkztn
(wr 5).
Admin:
neverGreen (#3910)
Map pick: Flip a coin (cv random 2h/t). Winner chooses, who picks a map first. Then the second player picks a map. After that two maps are played. If score is 1:1, then flip a coin again. Winner drops a map first, then the other one do the same until one map left.

Server pick: The server with more or less equal ping should be chosen to play. The only exception is for players living far away (NA, Siberia, etc...) or having problems with connection. These players should play on one of EU servers, if their opponent won't agree with their server.

Nick: Your nick on sign-up list has to be the same as your Discord nick. No fakenicks allowed!

Communication: Every player, who is signed in the cup has to check-in via Challonge to participate! All the players have to be online at #cpmduelcup20 channel on Discord. Winner of each match has to upload final screenshots in the #cpmduelcup20 channel right after the match is over.

Links:

nekonTV
,

CPMA Discord Server
,

www.playmorepromode.com