With Challenges-EU 2016 scheduled for
16:00 UTC, 08 Oct 2016
(this Saturday --
sign-up
), I decided to do a quick write up with respect to the major storylines leading into the event. Please remember that the following thoughts are mine, and mine alone, and that if you disagree, or find something to be factually incorrect please let me know, and I will make the appropriate edits.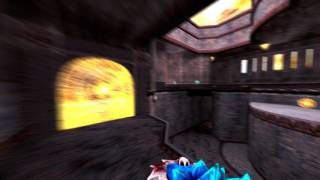 Challenges Europe 2016 Promo #2 by Ryan_H
1. Will gaiia continue to dominate this era of Promode?
gaiia has established himself as the top player in Promode since he broke into the upper levels of dueling some years ago. Following the footsteps of compatriots such as rat, and koddy, he quickly established himself as the
favourite
in every tournament he entered.
Winning both of the previous two CPM Master Cup (
2013
, and
2014
), dropping only five maps in the process, it is difficult to suggest that he is not the favourite to win this cup, however, general inactivity from Promode and Arena FPS games have created any opportunity for other players to close the gap between themselves and gaiia. Having been generally busy with 2K mmr Dota2, and making infrequent appearances in Reflex Duel Cups has given some of the other players an opportunity to usurp his crown.
As we approach this cup, gaiia has been playing Promode when the opportunities make themselves available, and what has not changed is his mechanical excellence. His aim, movement, and quite critically his ability to track players accurately while moving, remain impeccable. His general timing of items, and ability to know when to pursue, and when to hide continue to frustrate players. He is a very versatile player who is wholly capable of making dazzling frags as well as playing the slow, and the steady approach. There isn't a singe map you could point to and say "I
expect
gaiia to lose here."
His greatest weakness will be his form. Expecting nothing short of first place, if a player is able to agrivate him, and make him really work for his frags, and map wins, it could cause enough of a psychological disturbance to create vulnerabilities where there were none before. Not known for tilting in the past, when he was quite clearly above other players, a strong enough resistance could be enough to force uncharacteristic plays out of the Finn.
I expect him to win. I expect him to be dominant. I'm also hoping for enough highlight frag reels to delay The Contenders 3 by another 6 months.
2. Can Terifire or HAL_9000 overcome gaiia?
On the flipside of the coin with respect to gaiia will be our resident flying Dutchman Terifire, and the Promode Philosopher HAL_9000. Both players present mechanical skills within the same league as gaiia, demonstrating excellent movement, aim, as well the acumen to play strategically.
What is interesting is the contrasting styles both players approach the game with. Terifire comes with a very cold, and calculated approach, thinking the game strafe-by-strafe, carefully timing his attacks when they bear a heavy statistically bias in his favour. I've seen people accuse Terifire being "a defensive player" but I don't think that is correct. He plays to win, and wins by being as calculated as neccessary. He does employs a cautious play-style when the odds are even (or close to even), and will diligently attack when there are heavy gains to be made. This style often vexes other players into make otherwise unexpected, or unintended mistakes, and it is in this scenario when his offensive game really shines. Just watching his VODs makes it clear just how clearly Terifire thinks games through, and how dominant his LG can be.
In contrast to this cool style, HAL_9000 is quite possibly the most bombastic Promoder since the Polish legends dziku, pl1, and pod1. If Terifire is ice-cold then HAL_9000 is blazing hot. Relying heavily on his impressive, and lethal combination of moving, and aiming, HAL_9000 simply looks to bully his opponents at every turn, making quick work of them off every spawn. Known for his unreal railgun, and flick-shot aim, he is quite possibly the most lethal player when having the advantage, quickly the squeezing the hope out of his opponents. The toughest question appearing before HAL_9000 will be can he keep his composure when he is on the receiving end of a beating by any of the other players? His aggression may again be what holds him back, and when vexed he has a bad habit of giving in to his opponent's will.
I expect both these players to fight gaiia, and each other, tooth-and-nail, but they should come into this tournament knowing that only from their best form will be able to accomplish this goal.
3. Can L2 or light possibly challenge the three favourites?
After a disappointing 7th place finish in CPM Masters 2013, and a much stronger 3rd place finishing in CPM Masters 2014, it would be difficult o leave Lunokhod-2 in the dark. The Russian Promode veteran has been a long time staple of the top tier dueling scene in Europe, and Russia. Recently he has embarked on a moderately successful foray into Reflex dueling, and will coming into this tournament rusty in comparison to his form during his 3rd place run at Masters 2014.
One of the question marks at this tournament will be:
Which Lunokhod-2 will make an appearance
?
His most recent showings haven't been quite as impressive as his past body of work and yet this is exactly what will make a very dangerous opponent. If he comes in shape then it would be reasonable to suggest that he will be contending for a top for spot, however Lunokhod-2's sign-up caught me a bit off guard, and much like the rest of the community I'm not exactly quite sure what to expect.
In addition to the return of some other veterans, we also have the return of light (ffslight), a long time Quake, and Promode veteran. Maybe people didn't pay attention, or maybe they had just forgotten, but the Dane is capable of taking maps from any player. He has great aim, and wealth of experience to call upon. I remember playing against light a very long time ago he always had very strong aim, and the ability to always maintain a choke-hold over the game. Nothing hen gave you was free. light was a member of VQ3 clan #fps, and one his teammates was one of his clan mates was the ESWC 2004 Duel winner, fooKi, that' s not exactly shabby company to keep. light might not be a top contender, but anyone caught sleeping on him, or expecting an easy win, will in for a rude awakening.
4. Who is Pyth3r?
Now here is something strange. On Sunday October 2, 2016, some guy called Pyth3r joined the CPMA Discord Server looking for duels. He played light, and won. This isn't exactly an easy feat, and what made it more interesting is in the manner in which he won. He claims to be a German QuakeLive player… But I'm not so certain. It seems like neither Promoders nor QuakeLive players are familiar with him, and his skills are quite good, so I highly doubt he is a new player. So could he be a fake-nicker? A possible Promode legend of yesteryear trying to fly under the radar? Or just a troll looking to spoil the fun?
5. Can Smilecythe or Leshaka make a Cinderella run?
Two players that most people may not immediately relate with the direct Promode community, but are from our sister-games, and have played Promode in the past, have also entered the tournament. Both players are very good in their respective games, and I expect a lot (if not all) of their skills to transfer quite easily to Promode.
Leshaka hails from the Warsow community, and Smilecythe is from Xonotic. I was recently spanked by Leshaka on cpm3a, on a European server in my defence, so I'm expecting him to post strong results against weaker/newer competition, and competitive results against some of the more seasoned players. It seems like he has Promode figured out, so I don't think that there is a large gap between him, and some of the other players in terms of experience.
In fairness to Smilecythe, I can only remember playing with, and against him in team modes. I do know he has fantastic movement, and is aware of the strengths, and shortcomings of the Promode movement system better than anyone else.
Both players have achieved success in their native games, and it will be very interesting to see how they stack up against Promode's finest. A top four placing should be considered a great victory.
6. Will any of the mid-seed guys draw blood? (DEZ, hyp3r, naper, Sab0o, santile)
Moving slightly down chain, the following group of players have the requisite skills to be higher up on the tier chart, but not necessarily the experience or composure to do it consistently.
DEZ is a good TDM player, and his movement is insane (see the promo video above, that's DEZ), and there have been times where his aim has also been top tier, but like many of the players in this bracket, it's really going to be a question of form. If he can start hitting like a truck again then there is no reason why he couldn't take a map off a stronger player.
I don't know hyp3r very well, but I have seen him have very competitive games with players like memphis, and there is nothing you can
technically
fault him with. The #BOSSTOUR group leader will hopefully have a good showing, but we'll see just what kind of bracket will await him and what his map luck is.
If it were not for Promode being
totally dead
between Winter 2014-Summer 2016, I would have taken Sab0o as the most likely candidate to have been able to take a map from the contending group. Unfortunately this is not the case. Sab0o does have the same sublime skill as the best players but a lack of form, and difficult maintaining composure will be a large hindrance. Of the players listed here I think he has demonstrated the highest level of skill in the past.
naper is an American player that came to Promode quite late from Quake Live (clan arena…). His biggest advantage coming into this tournament will be his form as he and has been very active in the past few months. He has very strong hitscan aim, and will constantly jockey for better position on the map. He's at his strongest when he playing relaxed, and freely, hitting everything that move. The question will be
can he keep his nerves in check
? It doesn't help that he will be playing with a ping disadvantage throughout the tournament, however, he has been play a lot of his games on European server and should be accustomed to this issue. His movement isn't exactly the strongest, but it's good enough to get things done, and he has taken games from Kwong-Lo on US East servers.
Finally in this group, is santile aka
santilito
, aka
santiliago
. Santile has very strong movement and uses it to leverage a constant positional advantage over his opponents. He is very tuned into his armors, and understands that against heavy hitting player you need to have a larger stack to do an equivalent amount of return damage. He is a patient hunter, and looks to guide his opponent into traps as often as possible. Don't sleep on him because he seems to be quite sure that there is map that he can take from all the players entered (or not).
7. Will

Vo0 or

memphis make an appearance?
Edit:
Vo0 will be playing.
If we had to name other players outside of gaiia, Terifire, and HAL_9000 that would be considered front runners to win the tournament and are not signed up, then you would talk about memphis, and Vo0. There's no need me for me to tell you about these guys. You already know everything. Legends in their own right.
The question is,
will
memphis play?
And before you ask
what about gellehsak
, he can't play because it's Canadian Thanks Giving weekend.
8. Will es get a new mouse?
Will he? :thinking:
9. Every legend has a start?
Big shout out to the new players, maybe this is where a future talent is born?
Thank you to all the players that provided me with some of their insights, and the people that helped me write this. Thank you!
Links
:

Sign-Up
,

Playmorepromode.org
,

CPMA Discord
,

Challenges-EU 2016 Discord
Streams
:

ZLive
,

Team 102
Donate
:
PayPal Link
.